Publisher:
UbiSoft
Developer:
UbiSoft
Genre:
Action, Adventure
Players:
1
Rated:
M (Mature)
Written by:
Zach2387
The Prince of Persia: Warrior Within is a pretty solid game. The graphics are nice, the gameplay is solid, the music rocks, and it's just fun to play, although a little confusing... Unfortunately, I have not played the first, Sands of Time, so I cannot compare the two.
I guess I'll start with the graphics, which are pretty good. The cut scenes are especially breath taking and look very "realistic". The graphics in the actual game is also pretty good, but not the best, however there are lush and very detailed enviornments which are very nice. So overall the graphics are pretty solid, and don't dissapoint or detract from the game.

Nice, lush environments, with occasionaly lever pushing.


The music is also pretty cool. It's mostly rock, mixed in with a little of that symphony stuff...idk, but its cool and gets you pumped up to kill some people. However there are many times where there is no music and you are just trying to figure out where to go...so that is lame, since it will be pretty silent as you wonder around the place, when you want some music...
A nice feature is that from the beginning of the game, until a little ways through it, you can opt to have little messages put on the bottom of the screen to help you out. It tells you about the controls and how to do combos and other cool things, so it is very helpful and non-intruding. Just a little discreate message at the bottom.
The fighting is pretty sweet. There are a ton of combos you can perform, and I mean a ton. You can grab people and throw them, or stab them in the back, or jump off them, or you can jump off a wall and leap towards someone. The diversity is outstanding. You can even pick up a fallen enemies weapon, and dual wield. There are also these weapon holders that you can break and take weapons from there. You have your main weapon, and then a secondary one. I love just picking up a secondary weapon, and then throwing it at enemies to kill them; very satisfying.
And the controls are very simple and easy to perform these combos and everything. It is also easy to fight multiple enemies at once. All you have to do is point the control stick in the direction of the enemy you want to attack, and the Prince will transition to that opponent in a smooth manner.

Just beatin' on two fools. You can also block...yeah...

Upper left hand corner, that's all your info. The blue meter is your health, while the gold orbs are your sand that you can use for slowing down time or rewinding. And that weapon is your secondary weapon and it will progressively get redder as you use it, meaning it will eventually break.
A cool thing is that sometimes when you land that final blow to an enemy, the game will go in slow motion, and then you will see the guys head being cut off, or him being sliced vertically into two pieces...it's pretty sweet. So yeah, there are some cool animations and death moves and stuff. Hehe, I mean, who can't love throwing your sword at an enemy across the room, it going into slow motion, and then said enemy's head being cut off...it's just so satisfying.

Yowza, you know he dead.
A semi-helpful thing is that when you enter a new room, a big room, the game will usually go into a mini-cut scene and show you around the room and where you need to go, however, this doesn't happen all the time, and it really doesn't help all that much. This is the main problem with the game; you just wont have any friggin' idea where you need to go.
Don't get me wrong, you usually know the overall place in where you need to be, but getting there is another thing. It's just very difficult to see everything, especially with the overgrown foliage and everything that are in some rooms. So you will find yourself traversing throw a room or enclosed environment for minutes, just looking for that one poll, or one place to climb up on...hidden in the shadows...so that's pretty frustrating...seriously, in some levels, you have to just take a leap of faith, and then you will be like, "Ohhhhhh, there's a poll there" or a small ledge, "didn't see that..." It's just very confusing and frustrated, not only because you can't see where you need to go, but also because you will be dying trying to figure it out.
And not dying mentally/emotionally, but literally dying. You will fall so many friggin' times...so frustrating. I was on this one part of the game yesterday, and it took me at least 15 times to figure it out exactly and not mess up. It's not the fact that I was dying really, well yeah it was, but it was just the "Game Over" screen and then the cut scene again, and then I die again....Good thing though, if you have seen a cut scene already, you can press A or B or whatever and it will "fast forward" which is nice.
But yes, you will fall and die a lot. But of course this is Prince of Persia, where would you be without some time powers. Yes, you can rewind and retry something, so hopefully if you have some sand, which you can get from killed enemies and vases, you can rewind if you fall and give it another shot.
Other time powers include the ability to go in slow motion; ya know, to run "faster" so you can get through the door before it closes and things like that; and you can also perform some kind of big attack that will damage surrounding enemies...So all of those are pretty cool. You can even use the slow-mo power in combat to do some major damage to enemies.
The game is fluid, and running through the rooms and "levels" is fun. I mean, you are constantly running on walls, swinging from poles, jumping and leaping from ledges, and balancing on narrow platforms. And I mean, who doesn't love running on walls? That's just too cool. And you have your ropes hanging from walls, and ladders and stuff, so you run on a wall to one of those and then swing and jump...it's all very satisfying and fluid.
It's not always that simple though. There are also obstacles, naturally. On some walls there will be some swirling blades of doom, and some huge logs that take up a path, that are also swirling and have blades on them. So timing is key. Of course there are also floors filled with needles...really, really big needles. I like to just run on the walls and avoid them all. So yes, it can get tricky, very tricky, and may take you a few tries to get it right.

Better run Prince. This area is tricky. You have the floors and those logs to dodge...I would probably run on the walls, or slow down time.
My problems with the game are pretty minor, but still present. The first of course being the constant dying and falling and having to replay an area again and again and again. Gets old fast.
The second being some of the camera angles. For instance, if you get up on certain ledges or something or get to a certain spot, the camera angle will completely change, causing you to jump or turn somewhere where you don't want to, or miss jump causing you to fall to your doom. Also, when you get to a certain area, you might get a bad camera angle so you can't really tell where you need to jump. I mean, you can see the pole you need to jump to, but it's hard to see if you are lined up with it. However, this problem is solved with the ability to look in first person view, however it's just annoying and something that takes time when you shouln't really have to do it.
And my third and final beef with the game, is that you have to go back and forth through time. Now, this is cool, ya know, I'm fine with that, but at least at the beginning, this means you have to play through the same rooms twice, and they are more or less unchanged by time, so it just seems a little repetitive, especially when you need to get to the exact same areas again, so it's like you are doing the same thing twice, which I find lame.
Other cool features include your actual health. Pretty unique I would say. To regain your health, you need to find water and then you drink it. Pretty cool, since there are springs and fountains here and there, ya know, no health boxes or anything weird like that. Also, that's how you save; you have to find, or get to really, a special kind of fountain where you replenish your health and save.
Another thing is that there are these treasure chests scattered throughout the land, and if you find one and break it open, then you unlock some cool art. And you get more and more art as you progress through the game and get weapons and see characters and things like that.
Also, with the gameplay, they mix it up a little. Yes, for the most part you are just traversing these environments and what not, with occasional fighting, which is nice. But every now and again you will have to allude this big beast guy sent out to kill you. He's big...and bad...So you have to make your way through this area before he catches up to you...it's cool and intense and what not.
So yeah, Prince of Persia: Warrior Within. Defintely a sweet game, but a little frustrating with falling all the time and not knowing exactly where you are supposed to go...but the fighting is solid, with a ton of combos to do, all of which can be found and seen by either pausing the game or looking in your game manual. Also, you earn a few combos here and there. There are some sweet moves you can perform, and running on walls and everything is awesome. Everything is brought together in a nice, sleek, package.
I hear this game is much more violent and dark than Sands of Time, but so far, it doesn't seem all that bad...so I don't really know what the big fuss is about. Great game.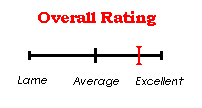 8.5/10
Spread The Word...
|
|
|
|
|
|